Print
News
Trends in infrastructure investments
Date: 02. September 2020
Alternative Investments

Institutional Investors

Company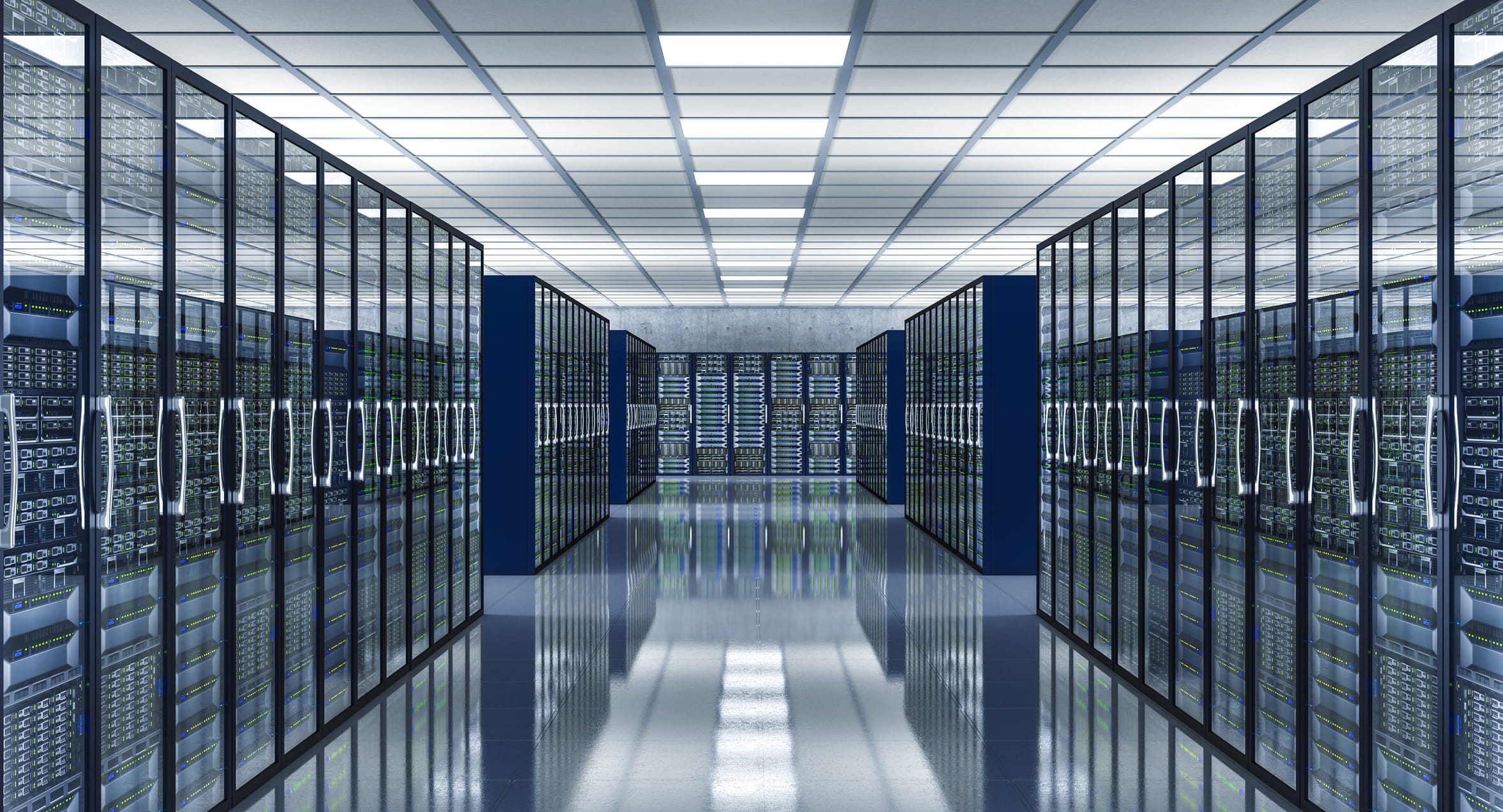 Photograph: tiero Source: iStock
Infrastructure investments in a new market environment
The corona crisis has altered the environment for infrastructure investments. A number of trends are already emerging, including a further increase in demand for telecommunications and data infrastructure. Analyses conducted by Universal-Investment show that infrastructure investments have enjoyed growing popularity among investors for several years now. Overall, the positives are likely to continue to outweigh the negatives for this asset class.

This article is addressed to professional or semi-professional investors.
Grounded aircraft, the slump in public transport and weaker demand for energy due to the lockdown in industrial production – all of these are bad news for infrastructure investments. Or at least for some. Conversely, demand for alternative investments is likely to be further underpinned by the substantial rise in internet traffic, the increased emphasis on providing a well-functioning administrative infrastructure and expectations that interest rates will remain low for an even longer time to come. Exactly how the coronavirus crisis will affect each type of infrastructure investment remains to be seen. Either way, Covid-19 is likely to have a lasting impact on the sector.
Alternative investments, including those in infrastructure, enjoyed a boom period before the corona pandemic. According to the data provider Preqin, after exceeding 500 billion dollars in 2018, assets under management in infrastructure reached a record high of 582 billion US dollars as of June 2019.1
Asset classes with an array of benefits
There are several arguments in favour of infrastructure investments: the attractive returns in periods of low interest rates, the frequently low correlations with other asset classes, the mostly low volatility, as well as the largely steady and predictable cash flows, the additional portfolio diversification and the implicit protection against inflation in several structures. There is a wide range of access options with varying risk-return profiles: direct investment on the one hand, fund investments on the other, either as equity (shares, participations, public-private partnerships/ PPP) or as debt (bonds, loans).
In addition, demand for infrastructure is largely stable and unaffected by economic fluctuations. External schocks such as the corona pandemic are definitely the absolute exception. What is more, infrastructure projects often run over a very long time period, with electricity or gas networks, for example, lasting for several decades. This suits the long-term payment obligations of insurers and pension funds.
Surge in private equity and private debt structures
The growth in infrastructure investments is reflected in figures by Universal-Investment. These highlight that both the overall market for alternative investments and the market for infrastructure investments have seen strong growth in recent years. Invested capital in structures specialising in alternative investments has tripled to more than 50 billion euros in the past five years (as per 31.12.2019).
While the increase in private equity was particularly steep, the net asset value of infrastructure investments also jumped to 6.1 billion euros in 2019 (as per 31.12.19) from 2.5 billion euros in 2015 (see chart). Infrastructure investments accounted for 20% of total private equity structures in the Universal-Investment portfolio.
Private equity structures: sharp increase in infrastructure investments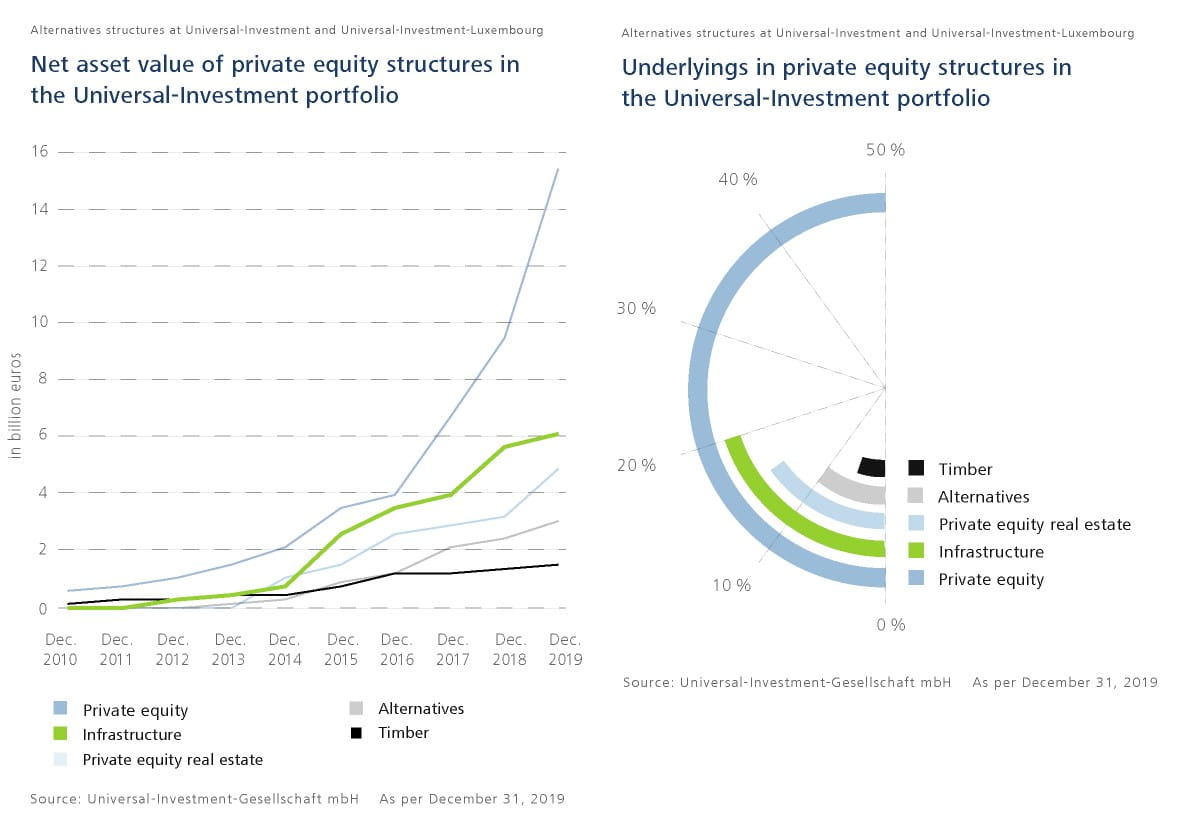 In comparison, infrastructure investments in private debt structures accounted for 15 % as per December 31, 2019. Infrastructure investments rose to 1.4 billion euros in 2019 (as per 31.12.2019) from 263 million euros in 2015.
Private debt structures: strong growth in infrastructure investments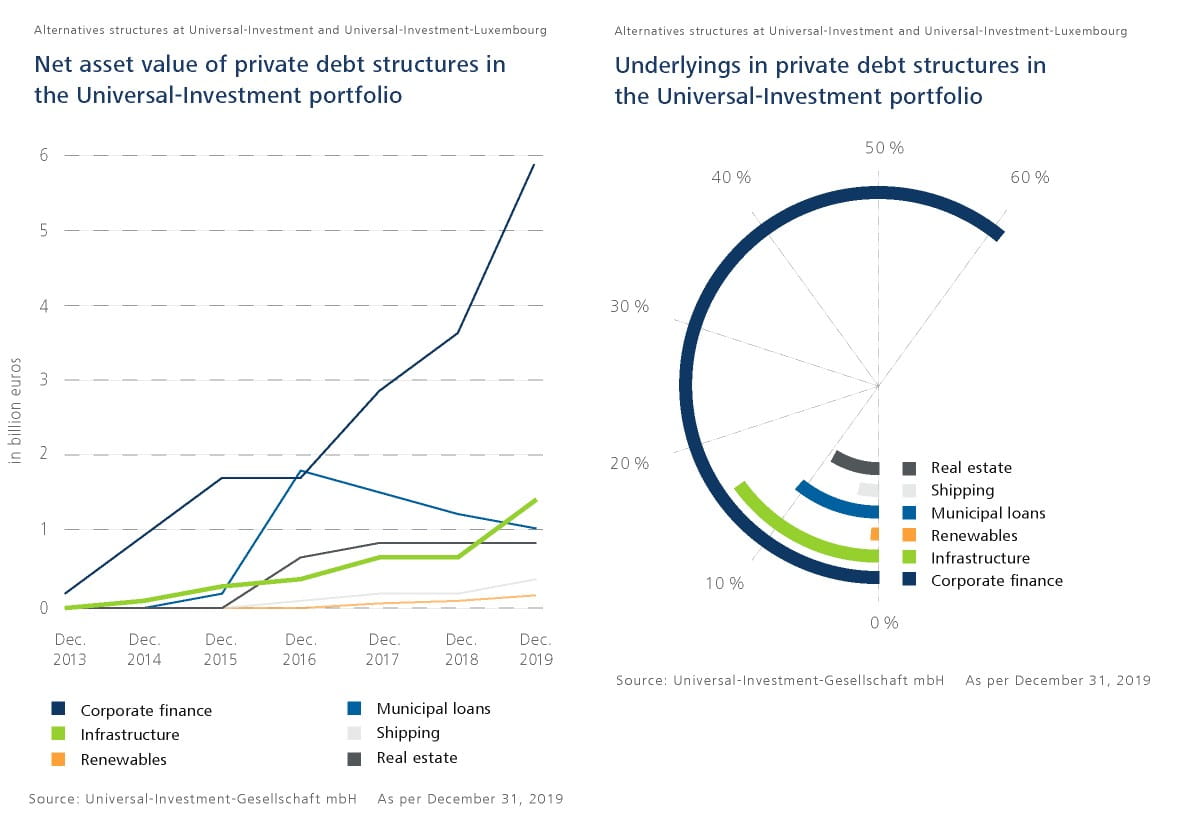 Post-crisis infrastructure investments: business as usual?
Prior to the corona pandemic, the data provider Preqin forecast that investments in infrastructure would continue to surge in 2020 as well as in subsequent years. Preqin expected assets under management to reach the 700-billion-US dollar mark in 2020 and to rise to 1 trillion US dollars by the end of 2022. It is impossible to say at present whether this can still be achieved. What is likely, however, is that investment flows will change.
How will the corona crisis affect the market for infrastructure investments? Some hypotheses:

Possible positive effects:
Public sector infrastructure orders are likely to increase in the context of the various economic stimulus packages announced or planned by numerous governments. Given that public finance will not be able to fully fund these efforts, the number of public-private partnerships might also rise.
Demand for telecommunication and data infrastructure is also likely to grow as the crisis is driving the trend towards digitalisation. Working from home, online shopping, online interaction with the authorities, online entertainment (gaming and streaming) and online learning will probably become even more widespread.
Demand for administrative infrastructure will also probably increase as the crisis has highlighted the importance of a well-functioning state.
Global central banks have reacted to the corona crisis with unprecedented liquidity Higher interest rates have therefore become even less likely in the medium term, and high-return alternatives to bonds all the more attractive.
Possible negative effects:
The use of transport infrastructure (toll roads and bridges, railway networks, airport and port operators) has declined sharply due to the lockdown, making a speedy recovery to 2019-levels unlikely. Revenue from toll roads and bridges, for example, is expected to decline. One bright spot is that goods traffic has remained relatively stable until now.
In the energy infrastructure sector, drastically lower oil prices due to the corona crisis may lead to a decline in renewable energy projects (which are now potentially less profitable). The sharp decline – at least in the short term – in electricity demand due to the lockdown in industrial production is a further negative factor.
Across all sectors, the disruption of supply chains and the temporary lockdown of state authorities and offices, planning offices and construction sites could lead to delays in the completion of projects and to increased costs.
Despite all the challenges posed by the crisis, traffic should pick up again in the long term on the back of demographic growth and the increasing prosperity of several emerging markets alone. What is more, there is only likely to be a short-term fall in industrial demand for electricity and it will probably be offset by rising private demand due to the trend towards working from home and to the near-total move towards digital communication. Once we have tackled the worst of the crisis, efforts to become carbon neutral are likely to return to the fore and the switch to renewable energy to be accelerated.
Working with an experienced structuring partner
For this reason, despite all the changes, infrastructure investments are expected to remain in demand. It is important to point out, however, that these are complex investments from a regulatory, taxation and administrative point of view. It is also vital to note that there is no single "standardised" way to access the market. The respective investment, tax and regulatory legislation, the level of the investor's experience in infrastructure investments and the planned investment total all play a role. The Investor's risk profile should also be taken into account. If applicable, it should also be clarified whether the investments are subject to Solvency II rules or national Regulations such as the German Regulation on the Investment of Restricted Assets of Insurance Undertakings ("Anlageverordnung") or whether solely internal regulations need to be observed.
The crisis has once again shown how important it is to invest in highly flexible structures in order to be able to react quickly. It therefore makes sense for potentially-interested institutional investors to work with an experienced structuring partner. This grants them access to the necessary expertise as well as to individual, tailor-made solutions.
Footnote 1: Preqin – Infrastructure Boom set to Continue in 2020, 04.02.2020
The key tasks of such a partner include:
supporting institutional investors in the tailored set-up and structuring of infrastructure investments.
providing AIFM services with the option of different domiciles.
offering a wide range of target investments and investment structures from the set-up to administration and reporting. Owing to the complexity of the requirements, a "one-stop shop" offers an array of benefits for institutional investors. If required, they can get all they need from a single source.