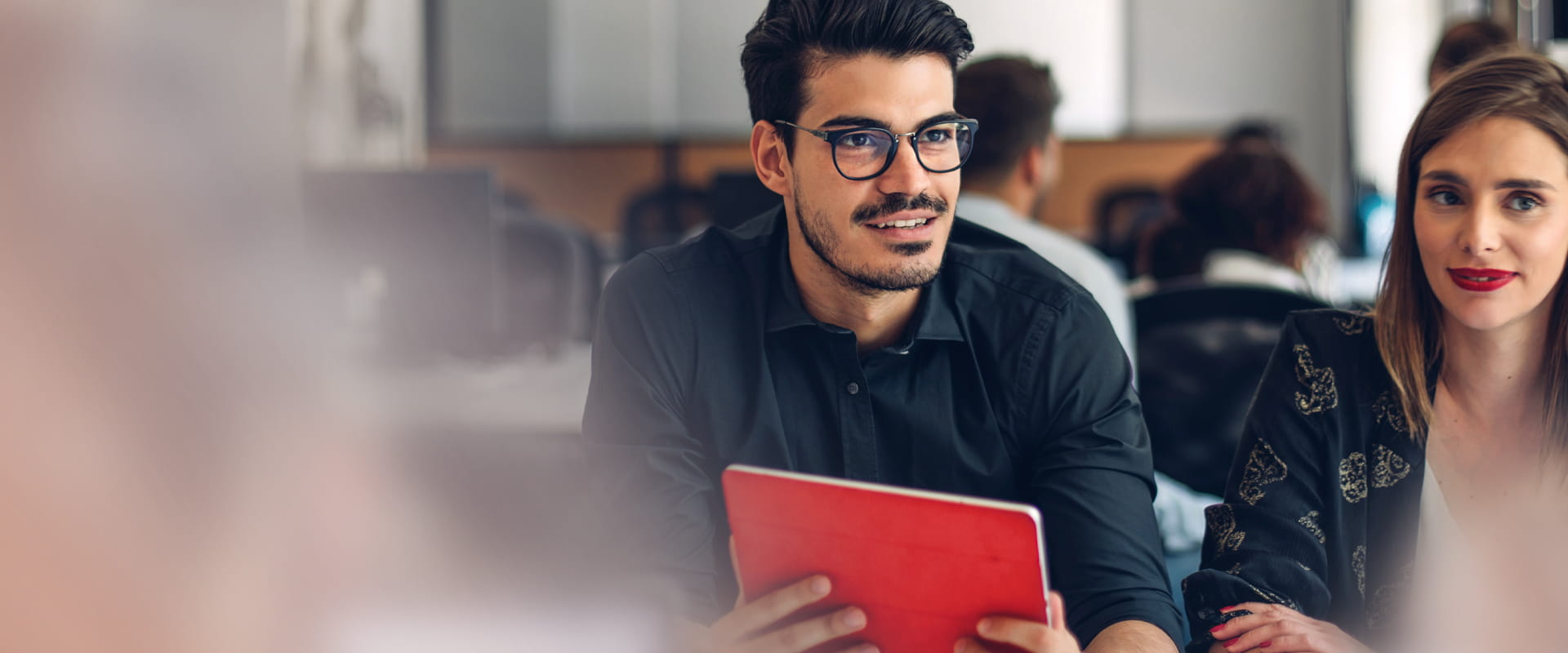 Professional future at Universal Investment
Our trainee programme for your career entry
Start with us into your
professional career as a trainee!
Besides having your training on the job on a daily basis with us, your programme will be enriched and completed by trainings with focus on business as well as on your personal development. Furthermore you will be coached and supported by various personal mentors and counterparts throughout the duration of your training period.
Training oppurtunities at Universal Investment
We promote an independent, committed and collegial interaction with each other and live creativity and team spirit. In employee development, we focus on professional and personal skill education courses and thus promote the individual strengths of each individual.

As a company with a proven track record, a wellknown brand image in its field of business and outstanding growth potential, we have a lot to offer to you: a performance-driven salary including social benefits of the banking sector, flexible working hours and a state-of-the art working place in terms of location and technology.

Your personal career will be directly influenced through your personal positive engagement and success. Learn more about our benefit programme here.
Generalistic trainee programme
Duration: 12 months
Start: annually by 1st of April or October (other start dates possible)
Finished master studies / master degree in finance or economics or at least a very good bachelor's degree
Fluent in English and German
The 12-months
trainee programme
During your 12-months trainee programme you will be prepared intensively for your future tasks at Universal Investment. You get to know our business model, especially our product units, from scratch and establish a wide network across our locations. The programme is suited to your individual interests and capabilities. You will be able to develop your talents, to shape your programme with us and to build up a broad knowledge. During your trainee programme we will decide together which department will be yours for the last phase and after your successful programme.

In addition, expert and interdisciplinary trainings will support you in your individual development. Furthermore, an assignment in our Luxemburgian or Polish, Krakow, subsidiary lasting at least two weeks will complete your trainee programme.
What is the structure of the trainee programme?
The trainee programme takes place mainly in Frankfurt am Main and is structured in three phases:
1st phase: You will develop a broad understanding of our business model through assignments in various departments (key units), in particular the product areas.
2nd phase: You have the possibility to supplement your programme with individual assignments in other departments (elective stations).
3rd phase: Together we decide in which department you will be employed and continue your career path with us after the successful completion of your trainee programme.
- High interest in the fund business and in financial issues
- Strategic and independent way of working
- Master's degree in economics, finance or a comparable subject
- International experience, e.g. semester abroad, internship abroad
- First practical experience in fund business is desirable
- Very good English and German skills