Print
Partner News
Making value the goal
Marketing ad
Retail funds

Institutional investors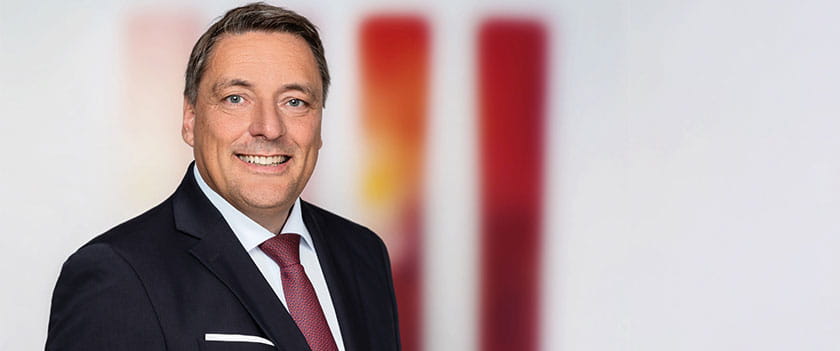 The attention paid to value investing has lagged growth investing in recent years. However, does value investing offer potential? This is the question we asked Dyrk Vieten, the Founding Partner and Managing Director of Amauris Invest, during an interview.

Dyrk Vieten has successfully helped launch several funds at Lingohr & Partner Asset Management. This includes the Lingohr Global Small Cap fund (ISIN LU1479103472) and the Lingohr Global Equity fund (ISIN LU1479102664).

During this interview he introduces us to these strategies and explains why they are important.
ChampionsNews: Mr Vieten, you took over the value boutique Lingohr & Partner Asset Management in spring and are now the CEO of the company. How did this development come about?
Dyrk Vieten: I have a long history with Lingohr & Partner. I had closely accompanied the founder, Frank Lingohr, who unfortunately died six years ago, in successfully introducing the "Lingohr Systematic" fund family to the market.
Other important funds that were launched include the Lingohr Global Small Cap and Lingohr Global Equity funds, which both aim to generate value by acquiring assets that are expected to generate income, growth, or both. The fund assets are invested worldwide. Therefore, it is a real pleasure for me to take on entrepreneurial responsibilities for this well-known and special investment house alongside Amauris Invest. As the CEO of Lingohr Management, I am responsible for business development and the further development of the sales pipeline.
Rising levels of inflation and a pickup in interest rates are providing tailwinds for value investing. Meanwhile, relative to historic average valuations, current levels suggest value stocks could significantly outperform.
What opportunities do you see in value investing, now and in the future?
This company has an excellent reputation as a value investing asset manager. Even though this investment style has lagged growth investing in recent years, I am convinced that value investing has a lot of potential. This includes opportunities for private investors and institutional clients, such as pension funds, charity foundations, family offices and others.

We are fully committed to value investing and we believe our success is confirmed by our current performance in an overall challenging market environment. After a long and tough investment environment, disciplined value investors have good reasons to be cautiously optimistic.

Value investing focuses on countercyclical behaviour. Investors will not permanently follow a trend because they know that above-average performance is much easier to achieve over the long term if substantial stocks and fund units are bought when they are priced at low valuations.

The opportunities on offer to invest in global value stocks have rarely been as good as they have been this year. We expect many high-value stocks to continue to perform well in an eventual broadening economic recovery.

Rising levels of inflation and a pickup in interest rates are providing tailwinds for value investing. Meanwhile, relative to historic average valuations, current levels suggest value stocks could significantly outperform.
Let's take a closer look at the Lingohr Global Small Cap and Lingohr Global Equity funds. What is the difference between the two?
Both are global equity funds managed according to our disciplined value-based approach. The Lingohr Global Small Cap invests in small and medium-sized companies. We are constantly on the lookout for undiscovered "gems" or "hidden champions" with a market capitalisation of between 150 million and five billion euros, which are not in the public eye, but operate very profitably and have a lot of potential. These stocks can often be bought at very attractive prices.

Overall, we believe this is a promising investment universe for us as an active manager. The Lingohr Global Equity by contrast, is based on the foundations of our investment thesis. Here we select what we believe are the most attractive stocks in the world. These stocks typically have a market value of around one billion euros. The segments we invest in include cyclicals, financials and defensive stocks.

We use specially tailored metrics to identify the most promising stocks. All stocks held in the portfolio are equally weighted. This ensures we achieve broad diversification across risks and opportunities for our investors.

Both funds were converted to sustainable products in accordance with Article 8 of the SFDR. Could you tell us more about this development?

As an asset manager, meeting the needs of our institutional investors has allowed us to grow strongly. We have been working on ESG solutions for more than 10 years.

Initially, our focus was on selecting the right data provider and integrating this information meaningfully into our investment process. However, sustainability is now an integral part of every portfolio manager's assessment when investing in stocks.

As a value investor, we are by definition looking for companies with sustainable cash flows and well-managed companies with sustainable business models. On this basis, we can now also comply with the new regulatory requirements on sustainability and provide our investors access to Article 8 funds.

Value orientation, longevity and systematic stock selection is now combined with sustainability screenings. We exclude companies that do not meet our minimum requirements and international standards for sustainability. Subsequently, we continue to have a diversified portfolio with highly attractive valuation multiples.

You mentioned Amauris Invest at the beginning of our conversation. What does this company stand for and what role does ficon Vermögensmanagement play here?

It is a holding company which we have created for independent asset managers and portfolio managers. It will help them grow, boost earnings and expand their market position effectively. Additionally we assist to comply with the necessary challenges of the industry in regards to digitalization, marketing, sales, regulation and compliance.
This is exactly what we offer solutions for. Asset managers face major challenges in all these areas. It is becoming increasingly difficult for them to maintain their own business models while also being prepared for the future in an increasingly demanding market environment. This is especially true when it comes to digitalisation and securing corporate succession.

ficon Vermögensmanagement is an active shareholder of Amauris Invest. I am the spokesperson for the management team at ficon Vermögensmanagement. Meanwhile, my colleagues Rainer Beckmann and Jens Hartmann support and promote the common vision we have.

Over the long term, Amauris Invest wants to establish a multi-boutique business that brings together various specialist service providers with individual strengths under one roof.
©2023. All rights reserved. This publication is exclusively intended for the use of professional and semiprofessional investors and is not intended for private investors. This publication is for information purposes only. The information provided should not be taken as recommendation or advice. All information is based on publicly available sources which we consider to be reliable. We cannot guarantee the accuracy or completeness of the information, and no statement in this publication is to be understood as such a guarantee. The opinions expressed in this publication are subject to change without notice. Information on historical performance do not allow conclusions about or otherwise guarantee future performance. The sole basis for the acquisition of units is the Fund documentation for the respective investment fund, which is available free of charge at Universal Investment and in the Internet at www.universal-investment.com. This does not constitute an offer or invitation to subscribe for units or shares of an investment fund. The information presented should not be considered reliable in this sense, as it is incomplete with regard to the possible interpretation as a subscription offer and may still be subject to change.
A summary of your investor rights can be found at www.universal-investment.com/en/Corporate/Compliance/Investor-Rights. In addition, we would like to point out that Universal Investment may, in the case of funds for which it has made arrangements as management company for the distribution of fund units in other EU member states, decide to cancel these arrangements in accordance with Article 93a of Directive 2009/65/EC and Article 32a of Directive 2011/61/EU, i.e. in particular by making a blanket offer to repurchase or redeem all corresponding units held by investors in the relevant member state.