Print
Press Release
Montrusco Bolton expands European presence in partnership with Universal Investment
Marketing Communication
Frankfurt am Main
Canadian asset manager launches second fund with Universal Investment in Luxembourg
US equity strategy with an established 14-year track record that is benchmarked against the S&P 500 Index
Canadian asset management firm Montrusco Bolton expands its presence in Europe and internationally with a new fund for US Equities. The fund has been launched in collaboration with Universal Investment Group, one of the leading Super ManCos and fund administrators in Europe. This takes place after the successful launch of Montrusco Bolton's UI I – Montrusco Bolton Global Equity Fund which reached USD 300 million of assets in fifteen months.
Structured as a Luxembourg SICAV vehicle, the UI I – Montrusco Bolton US Equity Fund aims to achieve long-term capital growth by investing in 20-40 actively managed holdings through a bottom-up investment approach that integrates ESG considerations into the investment process. The underlying strategy was initiated in Canada already in 1986 and has been the responsibility of Jean David Meloche as Head of Global Equities and his team since 2008. Since then the fund has outperformed its benchmark, the S&P 500 index, 11 years out of 14. The Montrusco Bolton US Equity Fund will be available to investors in Luxembourg, Germany and Austria Already at launch, the fund has received over USD 100 million in investment commitments.
Commenting on the launch, Sylvain Boulé, President and CEO of Montrusco Bolton, said: "We are very excited to make the US Equity strategy accessible through a SICAV vehicle which will allow a larger group of investors to manage their US market exposure when making their asset allocation. In Universal Investment we found the perfect partner to support us with knowledge, expertise and an unprecedented network." Marcus Kuntz, Area Head Sales & Fund Distribution at Universal Investment commented: "More than ever, investors are looking for fund managers who beat their benchmark over the long term. Through our fund service platform, we connect investors together with truly active fund managers. That's why we're delighted to expand our great partnership with Montrusco Bolton with the launch of our second joint fund."
Montrusco Bolton manages USD 10.7 billion in assets. The Global and US Equity team seeks to generate alpha through a disciplined and repeatable process that focuses on mispriced stock selection and minimising risks where they don't have a competitive advantage. The team aims at delivering attractive risk-adjusted returns by adopting a long-term investment approach based on rigorous fundamental investment principles and building high-conviction yet diversified portfolios to generate sustainable alpha.
The SFDR Article 8 fund targets high quality companies focusing on the following six pillars: Planet, People & Society, Governance, Productivity & Partnerships, Operations and Disclosure. The investment manager's evaluation of companies is based on exclusion criteria. The investment strategy has ESG factors embedded into each step of the investment process (e.g. screening, monitoring and sell decision).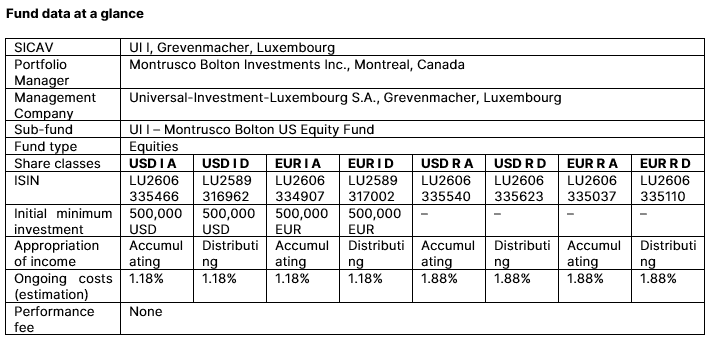 About Montrusco Bolton
Montrusco Bolton Investments Inc. is a Canadian boutique asset manager, firmly established with roots tracing back to 1946, with approximately USD 10.7 billion in assets under management as of June 30, 2023. Headquartered in Montreal, the firm has an entrepreneurial culture with long-term strategic partners, a robust infrastructure and a sound governance, as well as a diversified investment offering. The company is privately owned and independent and serves institutional clients in North America, Europe and Asia. Montrusco Bolton has been a signatory of the UN Principles for Responsible Investment since 2011.
© 2023. All rights reserved. This publication is for marketing purposes only. The information provided is not intended as a recommendation or advice. All information is based on publicly available sources that we believe to be reliable. We cannot guarantee the accuracy or completeness of the information and no statement in this publication should be construed as such a guarantee. The opinions expressed in this publication are subject to change without notice. Past performance information is not indicative of or a guarantee of future performance. The sole basis for the acquisition of units is the fund documentation of the respective investment fund, consisting of the sales prospectus, the annual report and/or the semi-annual report and the PRIIPS-KID. These documents can be accessed free of charge in German at https://fondsfinder.universal-investment.com/en under the relevant fund. A summary of your investor rights can be found at https://www.universal-investment.com/en/Corporate/Compliance/Luxembourg/.
The information presented in this publication is for your information only, is subject to change and does not constitute investment advice, legal and/or tax advice or any other recommendation. The statements contained in this document reflect the current views of Universal-Investment-Luxembourg S.A. ("UIL"), which are subject to change at any time without notice. All statements in this overview have been made with care in accordance with the state of knowledge at the time of the preparation of the marketing document. However, no responsibility or liability can be accepted for its accuracy or completeness. Information on how we deal with complaints can be found at: https://www.universal-investment.com/-/media/Compliance/PDF/Luxembourg-English/Complaint-Handling-Policy_UIL_EN_02-2022.pdf.

Furthermore, we would like to point out that in the case of funds for which UIL as management company has made arrangements for the distribution of fund units in EU Member States, UIL may decide to cancel these in accordance with Directive 2009/65/EC and Art. 32 a of Directive 2011/61/EU. In this context, the Management Company may make a lump sum offer to repurchase or redeem all corresponding units held by investors in the relevant Member State.

An investment in a Fund is a risky investment and investors in the Fund may suffer a loss in value up to an amount equivalent to a total loss of the entire capital invested in the Shares in the Fund. Accordingly, potential investors should have adequate and sufficient liquidity to economically bear a total loss of their investment in the Fund.

When deciding to invest in the advertised fund, the investor should also take into account the sustainability-relevant aspects with regard to the characteristics or objectives of the advertised fund as presented in the prospectus.

Further information on the sustainability aspects of the fund can be found in the web document, the sales prospectus and the pre-contractual product information. This can be found at: https://fondsfinder.universal-investment.com/api/v1/LU/LU2606334659/document/SRD/en
Contact
Bernd Obergfell
Head of External Communications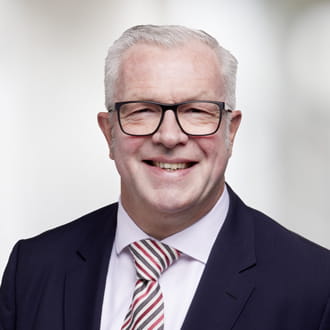 Alfons Niederlaender
Senior Communications Manager