Print
Press Release
Real estate survey 2023: German institutional investors want to more than double portfolio allocation to North America and Asia
Three out of four investors attribute an important role to real estate as protection against inflation
Allocations to new investments in domestic German market to be reduced by twelve percentage points to 57 per cent
Parallel to internationalisation, further progress is being made with portfolio diversification by usage types
Ideally the asset class real estate is to account for more than one fifth of the entire portfolio
Universal Investment's twelfth annual survey of German institutional investors highlights that the two-pronged diversification trend of recent years has intensified: investors are seeking greater diversification by both geographical target markets and usage types. On average institutional investors, with approx. EUR 55 billion allocated to real estate, intend to more than double their allocations in North America and Asia in the future.
Growing demand for North America and Asia
The surveyed institutional investors currently hold 69 per cent of real estate investments overall in Germany, 23 per cent in the rest of Europe, 5 per cent in North America and 3 per cent in the Asia Pacific region. Allocations to Germany are to decrease considerably by 12 percentage points to 57 per cent. For the rest of Europe, it is expected that the average allocation will rise slightly to 26 per cent. Allocations are to be increased in favour of North America (9 per cent) and Asia/Pacific (8 per cent).

"In one of the most challenging market phases of the past decade real estate remains an important pillar for the majority of German institutional portfolios. There have been further structural shifts, however, which have in part intensified. Countries outside Europe continue to gain in significance – a trend which fund initiators and investors need to prepare for. It is necessary to manage this growing complexity – which in many areas is accompanied by more varied portfolios – in a professional manner, either through the development of in-house expertise or through the specific involvement of external experts. This concerns transactions and ongoing asset management, as well as structuring and tax issues," explains Axel Vespermann, Head of Real Estate at Universal Investment.
In one of the most challenging market phases of the past decade real estate remains an important pillar for the majority of German institutional portfolios.
Office remains key, residential and niches clearly attractive
This year, the office segment is once again the most popular with 40 per cent of allocations, but the average is slightly lower than the figure in the previous survey, 2021 (41.4 per cent). The office sector is followed by retail trade (18 per cent), residential (16.3 per cent), logistic (13 per cent), miscellaneous (10 per cent), and hotels (2 per cent).

The plans for future investments reveal a significant shift towards the residential segment (+7.7 percentage points) and the miscellaneous segments, for instance medical practices and industrial real estate, (+7 percentage points). This development is primarily at the expense of office properties (-12 percentage points) and retail real estate (-4 percentage points).
Focus on cash flow – return expectation increases further to 4.1 per cent
Following on from an average expected return of 3.85 per cent in 2022, institutionals are now already stipulating an average return of 4.1 per cent. For 61 per cent of the survey participants the most important key ratio is the current cash flow yield. In contrast, thirty per cent of the respondents prioritise the unrealised total return, e.g. using the method of the German fund industry association BVI.
"The repeated interest rate hikes in the past twelve months have led to increasingly attractive alternatives compared to real estate investments – in the bond sector, for instance. Accordingly, investors are also amending their return expectations upwards on the real estate market. This is predominantly quite simply a phase of normalisation after a long period with low interest rates. In the medium term the real estate asset class will easily cope with this new competition and remain a key portfolio module," says Vespermann.
Three out of four investors appreciate real estate as protection against inflation
The survey underlines the key status of the real estate asset class for institutional investors in several respects. For instance, on average the respondents aspire to a portfolio allocation of 21 per cent in real estate. In particular, in the current market environment with heightened rates of inflation, the asset class also profits from its widespread reputation as a hedge against loss of value as a consequence of inflation. Three quarters of investors attribute an important role to real estate as protection against inflation for their portfolio.
ESG already being implemented on a large scale – positive impact expected for value of real estate, but negative for cash flow
In the opinion of institutional investors, the implementation of ESG measures tends to have a positive impact on the value of a property, but negatively affects the directly achievable cash flow. A mere 11 per cent of the respondents forecast a positive effect here. The most frequently implemented ESG measures are the ESG-compliant orientation of the purchasing criteria (50 per cent) and the start of conversion to green lease agreements (39 per cent). Just less than ten per cent of the respondents stated that they have already fully implemented the regulatory ESG requirements.
"Institutional investors are paying extremely close attention to regulatory developments regarding ESG requirements. Major progress has been made in recent years in the integration of ESG criteria into widely differing aspects of the real estate value-added chain, but we have still not achieved the goal of widespread practical implementation. In particular, in the current market environment the cost effectiveness of a number of individual measures has to be examined in each individual case – with respect to the current cash flow and the overall development of the value of an asset," comments Vespermann.
Core is king: Value-add and opportunistic strategies lagging behind
The survey also examined investors' appetite for risk. In this respect, the respondents stated that on average they intended to allocate nearly 60 per cent of their investments in the particularly safe risk class Core. The second most popular is Core+ with 29 per cent, followed by Value-add with 8 per cent and opportunistic strategies with 4 per cent. This development is in line with the in-demand current cash flow yield.
Media contact
Bernd Obergfell
Head of External Communications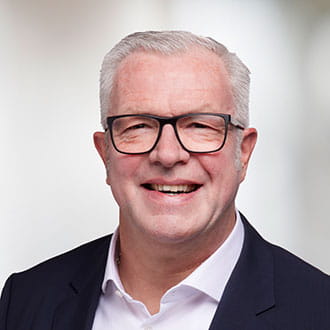 Alfons Niederlaender
Senior Communications Manager