Print
News
"Our clients are well-positioned on their journey into the future with us"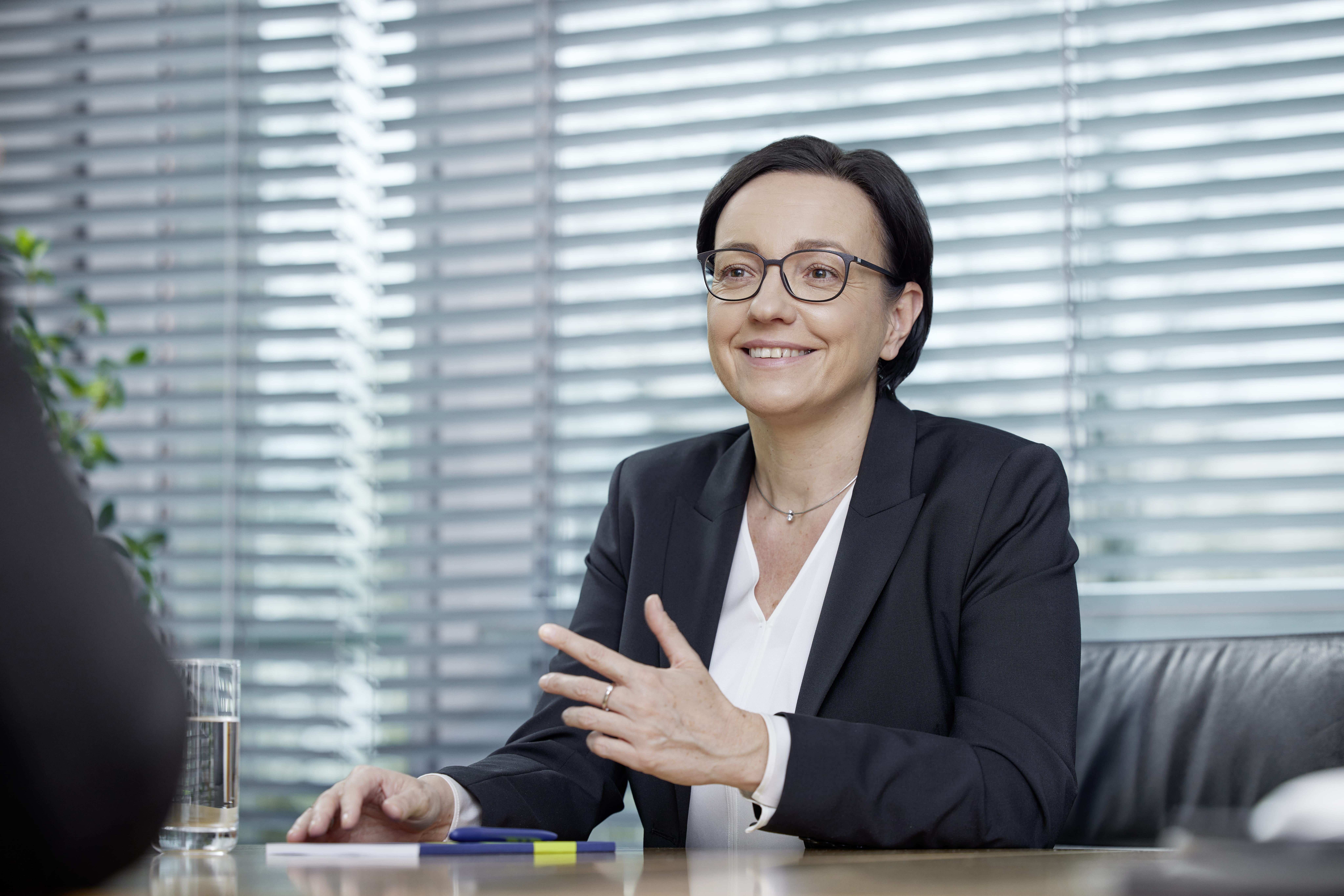 Much can be said about the finance industry, but no one can claim that the recent months and quarters have been uneventful. The turmoil caused by the war in Ukraine, the determined political will in matters of sustainability and climate change, along with the fluctuations in the financial markets have kept the industry lively. In the midst of all these developments, the Universal Investment Group has continued to evolve. Chief Customer Officer Katja Mueller shares her insights in this spotlight interview about the possible future direction of the fund industry as a whole and explains why she is confident in the success of industry specialists.
Katja, for many asset managers the past 12 months have been at least challenging. Hand on heart, what do you think the situation is like at Universal Investment?
To put it succinctly, we continue to be successful. Why is that? The reason is that we prioritise our clients, whether they are asset owners or asset managers. The underlying principle behind this is simple yet effective: we understand that our long-term success is intrinsically tied to the success of our clients.
Here are a few facts to support this belief. As of the end of April, we are privileged to manage funds totalling nearly EUR 980 billion for our clients. This is an increase of EUR 227 billion compared to a year ago, which is in part due to the acquisition of Luxembourg fund administrator UI efa. According to statistics from German fund association BVI, we have become Germany's largest management company, following the highest net inflows in the industry in 2022 in terms of assets under administration. This achievement is a testament to our clients' success, and we are immensely grateful to them.
So, everything is one hundred percent positive?
Growth is all well and good, but it must align with our standards on quality. There are of course occasional hitches, which is why I am thrilled with another indicator that we look at – our high rate of client satisfaction.
We measured this in 2022 using an independent provider and the results were encouraging. The most crucial metric I believe is the "Net Promoter Score" we received, which measures the rate of recommendation. It currently sits at +50, which is significantly above the industry average of -33.
These are not the only milestones we have achieved. For instance, we have been honoured twice for our ESG and Digital Assets initiatives with awards received from a UK industry media. Additionally, we chose a new site for our headquarters in Frankfurt in March, a timber-hybrid building that perfectly complements our development and sustainability strategy. Therefore, our clients can anticipate a new hub in Frankfurt, starting from the end of 2024.
Could you share your experience with your new shareholder, CPP Investments?
As a Canadian pension fund, CPP Investments is one of the largest asset owners worldwide. They manage assets of approximately EUR 400 billion, and invest a third of this in private equity. During the due diligence process, they conducted a comprehensive and meticulous examination of our operations. We therefore see their participation as a seal of quality, particularly as we are one of very few financial companies in their portfolio.
They, together with Montagu, make ideal shareholders. They not only ensure stability for our operations but also align well with our clients' views, given their status as asset owner. Their long-term thinking and intrinsic participation in the asset management industry further reinforces this alignment.
Is the change at the top of the company linked to the new shareholder?
No. Michael Reinhard has chosen, of his own behalf, to seek new challenges. We are grateful for his contribution to our company's development and wish him all the best for the future. For our clients, the crucial point is that we have ensured a seamless transition, thanks to our strong management team.
Will there be a strategic shift with the new Executive Chairman, David Blumer?
David Blumer is an industry expert, having held leading roles at BlackRock, Swiss Re and Credit Suisse. I have worked closely with him for over a year in his role as Chairman of our investment board, and believe he understands our business in detail. More importantly, he supports and shares our client focus. Until a new CEO is found, he will be fundamental in helping us continue our strategic course and its successful alignment.
The platforms in Luxembourg and Ireland are strategically central to Universal Investment. What do your German clients gain from this?
Our internationalisation strategy carries a dual significance. While it inherently signifies our aspiration to expand on a global scale, its primary purpose is to provide our clients with unparalleled flexibility in both launching and distributing funds. Luxembourg, being the second-largest fund marketplace globally, sets the stage for international standards for fund vehicles. Over the course of many decades, the Grand Duchy has cultivated a unique ecosystem, incorporating both public and alternative investments. As a leading third-party Management Company (ManCo) and a third-party Alternative Investment Fund Manager (AIFM), we sit at the heart of this thriving ecosystem. Similarly, Ireland has constructed robust and substantial infrastructure, with a prominent focus on alternative investments. Moreover, Ireland extends certain distinctive benefits to both asset managers and asset owners.
How is the progress going with integrating Luxembourg-based administration platform, UI efa?
The integration and growing together are progressing very well. The new colleagues in the UI team bring a lot of impulses and new perspectives, for example also thanks to the location in Paris. Subsequently, we are now jointly developing new products that hold considerable appeal for clients of Universal Investment Group. Direct Private Equity, which refers to making direct investments into private companies via funds, serves as an example of our shared innovation pipeline.
Finally, a big picture question: Where is the journey heading for the fund industry as a whole?
At the moment, I observe three immediate, intertwined catalysts that may speed up the transformation of the fund industry:

Firstly, the numbers clearly show that industry consolidation continues. The multitude of regulatory projects and the implementation of ESG requirements, which in principle make sense, are leading to rising costs for everyone. At the same time, competitive pressure is increasing. Consequently, the critical size required for a healthy business model is growing steadily.
Secondly, many market participants are currently looking at their value chain and asking themselves the make-or-buy question. Our clients demonstrate every day that it is possible to be successful by specialising in their core competency of alpha generation and outsourcing parts of the value chain to fund service platforms.
The third major catalyst is the shift in the financial climate brought on by a reversal in interest rates, which is further accelerating the other two driving forces. A period of low or negative interest rates that once buoyed financial markets appears to have come to an end. Consequently, the asset management industry's era of continually rising revenues may be drawing to a close. The upcoming three years will be telling, revealing those who leveraged this favourable wind to make strategic investments for the future and those who did not. We are confident that our clients, both on their own and in partnership with us, are poised well for the future.