Print
Press Release
Universal Investment launches joint venture with Alumia
Luxembourg / Frankfurt am Main
New company provides investment advisory service for asset managers and investors
Alumia's founders bring extensive asset management industry experience from top-tier firms like J.P. Morgan, Rothschild, and Lombard Odier
Alumia broadens Universal Investment Group's fund servicing by matching asset managers and investors independently and impartially
Universal Investment Group is delighted to announce the launch of joint venture Alumia, to complement their leading position in the fund services and Super Manco sector with dedicated fund distribution power.
Headquartered in Luxembourg, Alumia is a MiFID regulated investment advisory firm launched to provide clients with access to high quality and innovative investment strategies. Alumia advises a range of sophisticated clients including asset managers and asset owners such as corporates and family offices. Alumia's CEO David Saab has a 20-year career in banking and asset management at J.P. Morgan, Rothschild, and more recently as co-founder alongside with Peter Kraus of Aperture Investors. David is a successful serial entrepreneur in a variety of fields and has extensive experience in the finanical industry. He noted the compelling opportunity for Alumia to serve asset managers and clients as he highlights that, "For asset managers, building an experienced and global sales force, while meeting regulatory requirements and also using digital channels, has steadily become more challenging and costly," says Saab.

Fund service platform is a strategic partner and minority shareholder
Alumia's management holds the majority of the shares. Universal Investment Group is the founding partner of the joint venture, with a significant minority stake. "Active fund distribution capabilities are a key differentiator for Third-Party ManCos and AIFMs such as Universal Investment Group," says Universal Investment's Chief Customer Officer Katja Müller. "Partnering with Alumia is therefore an important milestone in our approach to further expand our existing distribution capabilities and boost our attractiveness as a fund service platform and Super ManCo," Katja added. The company has already made significant investments in its own fund distribution team targeting institutional investors in the German-speaking region. Alumia contributes to this with active distribution also in France, Benelux, Southern Europe and internationally. The joint venture is another important milestone for Universal Investment Group as it continues to grow with its clients, expand its business, addresses new international client groups, and thereby achieves its goal to become the leading European fund service platform and Super ManCo for all asset classes.
About Alumia
Alumia is a partner-led investment firm that specialises in providing investment advice through an innovative approach. The company's top objective is to deliver best-in-class advice and diversified solutions to its clients, by taking an independent, unbiased view and thinking out of the box. With decades of investment experience across the team, Alumia provides deep expertise and ongoing investment due diligence across private and public markets globally. One of the firm's key strengths is the ability to identify gaps in the market and to source unique solutions capable of generating long-lasting value creation and mitigating investment risks for the clients. In addition to serving as investment advisors, Alumia supports clients in growing their businesses through the firm's network, capital introductions and co-investing alongside them. Alumia serves a broad range of sophisticated clients, including family offices, pension funds and endowments. Within its ecosystem, Alumia partners with asset managers and large institutional investors, with a focus on being the key link in helping clients achieve their long-term investment objectives.
Media contact
Bernd Obergfell
Head of External Communications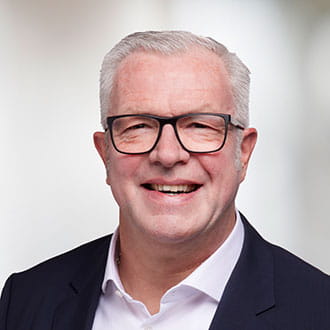 Alfons Niederlaender
Senior Communications Manager